Aims: We aim to explore the great heritage of history, beauty and antiquity to be found in our local churches. Even a short visit can be an adventure of discovery and delight. This has led us to realise that there is no such thing as an ordinary church. Every church is unique. We marvel at the skill and craftsmanship displayed in the architecture, carvings and stained glass to be found even in the smallest churches and throughout all periods of history up to and including the present day.
Arrangements: We visit one or two churches in a given locality commencing at 2 pm on the 4th Tuesday of each month.
Venues: Prospective members are requested to contact Ralph by phone or e-mail as above. The group is open-ended. All are welcome.
Details of our next visit[s]
2pm Tuesday 24th March 2020
All Saints, Honington [IP31 1RE]
&
St Andrew's, Sapiston [IP31 1RU]
From Bury: from Tesco's roundabout with A14 follow signs for Thetford A134. Keep in L lane and in ½m, at first roundabout, [s/p Thetford], turn L and at second roundabout continue ahead on A134. In 1m. take 3rd exit at roundabout [s/p Gt Barton B1106]. In ½m. turn L [s/p Honington/Gt Livermere]. In 3m., in Gt. Livermere, bear L then  R, and in 1m. enter Troston. [#]Bear L at The Bull Inn and in ½m bear R. In just under 1m. turn R [signposted Honington ]. In ¾m., in Honington village, turn R [s/p Ixworth ]. In 150 yds. turn L into Malting Row. Church 150yds. along –park courteously on R [as residents tend to do]
From Thurston:  leave village going north on Thurston Road to A143 Diss road. Cross over and in 2½m. enter Gt.Livermere. At Junction, go straight ahead and in 150yds. bear R. In 1m. in Troston, follow as above[from #]
For Sapiston church; ahead and bear L [Church Rd] and in 150 yds. bear R  and R again. In 300 yds. cross narrow bridge and in 150 yds. turn R at 'Sapiston Church' sign. Continue down Hilly Close [track] for ½m. Park on green in front of church.
---
A great new book on Suffolk churches.....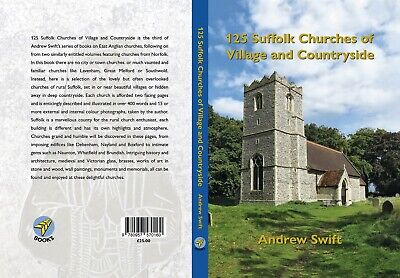 125 Suffolk Churches of Village and Countryside by Andrew Swift | eBay
Each church is described across two facing pages in 400+ words and up to 16 interior and exterior colour photographs. Foreword by Clare, Countess of Euston, H. M. Lord Lieutenant of Suffolk. 
https://www.ebay.co.uk/itm/125-Suffolk-Churches-of-Village-and-Countryside-by-Andrew-Swift/233398768102?hash=item3657a691e6:g:bhAAAOSwEbBdyX0y