Aims: We aim to explore the great heritage of history, beauty and antiquity to be found in our local churches. Even a short visit can be an adventure of discovery and delight. This has led us to realise that there is no such thing as an ordinary church. Every church is unique. We marvel at the skill and craftsmanship displayed in the architecture, carvings and stained glass to be found even in the smallest churches and throughout all periods of history up to and including the present day.
Arrangements: We visit one or two churches in a given locality commencing at 2 pm on the 4th Tuesday of each month.
Venues: Prospective members are requested to contact Ralph by phone or e-mail as above. The group is open-ended. All are welcome.
Our first meeting of 2020 will be on 25th February when it is hoped that we will be able to visit St Peter & St Paul church in Bardwell. The church is presently undergoing a major programme of restoration which is expected to continue until early February. This includes repair of important fifteenth century stained glass windows.
As soon as the visit is confirmed I will update this page.
---
A great new book on Suffolk churches.....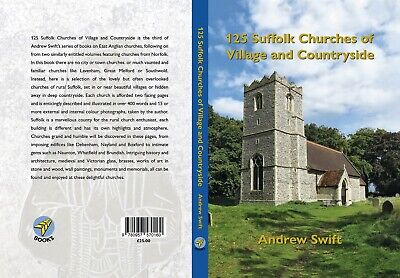 125 Suffolk Churches of Village and Countryside by Andrew Swift | eBay
Each church is described across two facing pages in 400+ words and up to 16 interior and exterior colour photographs. Foreword by Clare, Countess of Euston, H. M. Lord Lieutenant of Suffolk. 
https://www.ebay.co.uk/itm/125-Suffolk-Churches-of-Village-and-Countryside-by-Andrew-Swift/233398768102?hash=item3657a691e6:g:bhAAAOSwEbBdyX0y