Aims: We aim to explore the great heritage of history, beauty and antiquity to be found in our local churches. Even a short visit can be an adventure of discovery and delight. This has led us to realise that there is no such thing as an ordinary church. Every church is unique. We marvel at the skill and craftsmanship displayed in the architecture, carvings and stained glass to be found even in the smallest churches and throughout all periods of history up to and including the present day.
Arrangements: We visit one or two churches in a given locality commencing at 2 pm on the 4th Tuesday of each month.
Venues: Prospective members are requested to contact Ralph by phone or e-mail as above. The group is open-ended. All are welcome.
[29th January 2020] I am now assured that the extensive restoration work on Bardwell church will be completed by mid-February, so that the visit I originally planned for October can now take place later that month.
Charmian Tate, a local stained glass artist with expertise in medieval stained glass, is to give us a half-hour talk about the restored 15th century 'de Bardewell' glass in the north nave. We will then look at the remainder of the church before availing ourselves of the refresh-ments which have kindly been offered. 
A donation of £2 pp for the talk is suggested and a contribution towards the refreshments.
I will also be happy to accept the annual subsciption of £4 to cover my expenses this coming year.
Details of our visit are as follows....
2pm Tuesday 25th. February 2020
St Peter & St Paul church BARDWELL   [IP31 1AH]
Take A143 Diss road from Bury or Thurston towards Ixworth.  After bypassing Ixworth, turn L at next roundabout, [signposted Thetford A1088] and in ¼m. turn R [s/p Bardwell]. In 1m., in village,  continue forward onto Low St and in a further ½m. bear R into Quaker Lane [ignoring Church Road straight ahead] # . In 100yds. turn L into The Croft. The road bears R after 100yds., then park courteously on L. Take tarmac footpath on L & bear L into churchyard/ church. 
# There is very limited parking in the churchyard, accessed by a track on the R 100yds. along Church Road. This is suitable for less-able members.
---
A great new book on Suffolk churches.....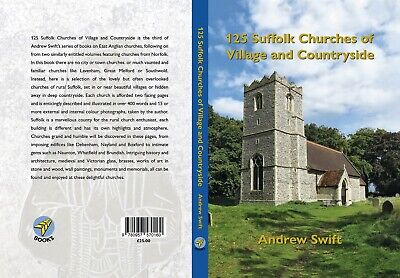 125 Suffolk Churches of Village and Countryside by Andrew Swift | eBay
Each church is described across two facing pages in 400+ words and up to 16 interior and exterior colour photographs. Foreword by Clare, Countess of Euston, H. M. Lord Lieutenant of Suffolk. 
https://www.ebay.co.uk/itm/125-Suffolk-Churches-of-Village-and-Countryside-by-Andrew-Swift/233398768102?hash=item3657a691e6:g:bhAAAOSwEbBdyX0y